[ad_1]

It's the end of the world, and we can't look away!
But who can blame us?
Honestly, this design looks so good that it's worth bracing the ensuing darkness just to fully enjoy it. Ragnarok is a defining moment in Norse mythology, and it inspired this Limited Edition – a fierce masterpiece designed by Ikaruna. The coolest part? Once Fenrir devours the light and plunges our world your room into darkness, this design actually starts to glow!
Naturally, we had to ask those responsible how such sorcery was conjured.
A Word From Ikaruna
First, we had a chat with the architect of Ragnarok to find out what inspired her to illustrate this world-shattering moment.
If you want to know more about her, don't miss our full interview, where she talks about how she went from drawing horse doodles to terrifying Xenomorphs and big bad wolves.
So what was the inspiration behind Ragnarok Is Coming?
I had just finished reading "Gods and Myths of the Viking Age" by the historian H.R. Ellis Davidson, and it left me deep in contemplation of what must have gone through the minds of the people in Norse society at that time. What were they like? What were their dreams, their fears? How did they see the world? And so, in this piece, I wanted to capture and convey a dying world where there is no escape from the end, where even the Sun and the Moon are eaten. A world in which all fates are already spun, but in which acceptance of one's future does not mean resignation, but instead living life to the fullest until Ragnarok is truly here 🙂 
How Our Design Studio Made It Howl
Then it was up to our Design Studio team to make the necessary enhancements and bring this Limited Edition home. It was quite the ride, according to Kasia:
"While creating this LE, Ikaruna collaborated closely with our Displate artists. The intention was to add more drama and action to the piece, and fine-tune the details. More specifically, we refined the character of Fenrir, added the raging storm and lightning strikes, and focused on developing a new way of using the phosphorescent powder. We did it by printing graphics on a sheet covered with this powder. We are very happy with the results, going through light gradients added a dark atmosphere to the work. All these adjustments were to emphasize the beginning of this great battle, in which all the stars would go out and the Earth would be flooded by a great sea. Hopefully not for some time, though, so we can enjoy this piece for decades to come!"
The End Begins Now
It's not every day that you get to work on such a powerful piece, and our team is extra proud of how this turned out. But when all's said and done, it was Ikaruna's sensational art that made this Limited Edition one worthy of myth.
Now make sure to go grab a piece before Fenrir wolfs them all down!
---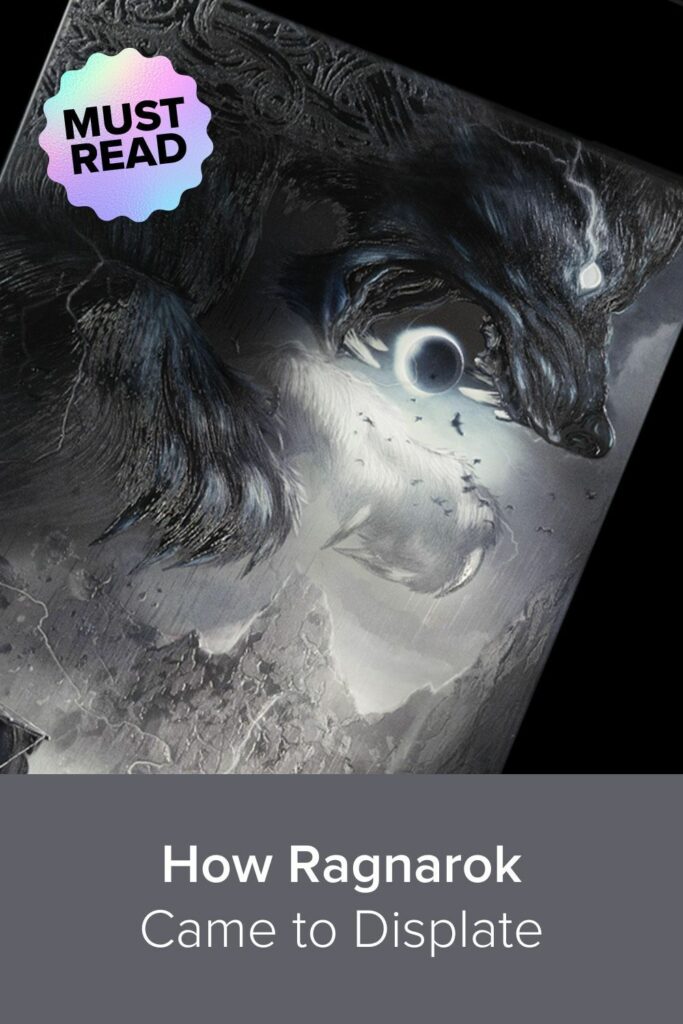 [ad_2]

Source link